Warrior Systems, Inc. - Poultry Equipment - Gainesville, GA
---

Hatchery Tray Washer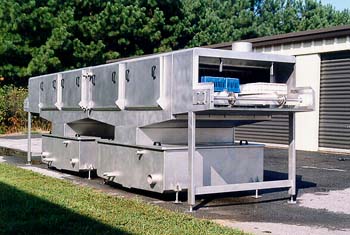 Hatchery Tray Washer
Warrior Systems manufactures modular tray washers to meet individual customer requirements. Wide or multi lane models are available. Easy access side panels make for easy clean up and removable bars make maintenance simple. The wide water recycle tanks house standard copper coils for boiler heat and have large clean out doors. All nozzles are stainless steel as standard. Heavy duty conveyor is stainless. Electronic speed controller for the conveyor is standard. All motors, control panel and E. Stops are supplied.

---

Available Options
Infeed drawbridge.
Tray dry off unit.
Disinfect system.
Flats washer guides.
Alternative heat, i.e. steam.

Standard Technical Data
25 Hp pre wash.
30 Hp wash.
.5 Hp Conveyor.
Sturdy stainless construction.
Nema rated control panel.
Stainless steel nozzles and manifolds.
Copper coil for heating.

Contact us today for more Hatchery Equipment information!
---
Chick Box Washer - Hatchery Tray Washer - Hatchery Tray Restacker - Vacuum Waste System
---
ON-SITE SERVICE & TRAINING - PARTS - NEW EQUIPMENT SALES
TECHNICAL SUPPORT & TROUBLESHOOTING - INSTALLATION - CONTACT US! - HOME
---
Warrior Systems, Inc. - P.O. Box 5583 WSB - Gainesville, GA 30504
Phone: (770) 718-9078 || Toll Free: (877) 892-7746 || Fax: (770) 718-9079
Email: Sales@WarriorSystemsInc.com