Warrior Systems, Inc. - Poultry Equipment - Gainesville, GA
---

Hatchery Tray Restacker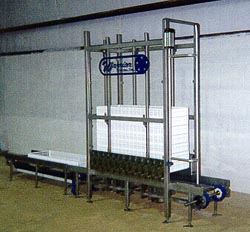 Hatchery Tray Re-stacker
Designed for ease of operation and maintenance, the Warrior Hatcher Tray Restacker solves the ergonomic problems associated with restacking hatchery trays manually.

Tray receiving conveyor is adapted to Warrior Tray wash outfeeds and can be supplied to accept trays from all major washer manufacturers at a rate up to 650 per hour.

Stack height is adjustable to correspond with customer requirements. Once the correct level is reached, the stack is released to the waiting hatcher dolly.
The machine shown is for Chickmaster hatcher trays, other models are available to suit all stacking hatchery tray types.
Standard Technical Data
Single .75 Hp motor.
Stainless steel construction.
< 5 cfm at 100 psi air requirement.
Available Options:
Individual 360 tray disinfect.
Multiple stack holding.
Adjustable guides to allow use with multiple tray sizes.
Design Advantages:
Ergonomic.
Sturdy.
Low power use.
Total washdown compatible.
Contact us today for more information!
---
Chick Box Washer - Hatchery Tray Washer - Hatchery Tray Restacker - Vacuum Waste System
---
ON-SITE SERVICE & TRAINING - PARTS - NEW EQUIPMENT SALES
INSTALLATION - CONTACT US! - HOME
---
Warrior Systems, Inc. - P.O. Box 5583 WSB - Gainesville, GA 30504
Phone: (770) 718-9078 || Toll Free: (877) 892-7746 || Fax: (770) 718-9079
Email: Sales@WarriorSystemsInc.com